MAILING SERVICES
YOU CAN'T HOLD AN EMAIL IN YOUR HAND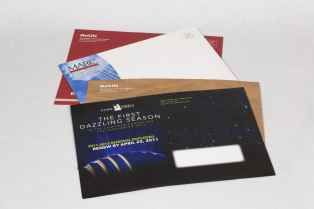 Direct mail has gotten a bad wrap of late. In fact, many have simply abandoned sending mail through the USPS for a number of reasons. Some will claim that it is too expensive with postage rates going up. Others will say that it is old technology and electronic media like email is faster and more efficient. Yet, how many email boxes show hundreds of unread emails or are just too full? How many Internet Service Providers are screening email and simply not delivering some kinds of email? How can you be assured that your email will be delivered at all? People are overwhelmed by marketing messages on a daily, hourly and minute by minute basis and long for something unique, meaningful, relevant and of value.
Enter Direct Mail. So when you want to be different than the "herd mentality," do something unique - send them a beautifully designed and produced direct mail piece and really stand out!
USPS (United States Postal Service) direct mail regulations can be challenging and confusing, and they're often changing. That's why we're pleased to offer our expertise to assist you from direct mail project conception through delivery. Our staff will help you attain the best postage rates and use automation to ensure your piece will be delivered as quickly as possible. We also offer merge/purge data cleansing, CASS certification and NCOA processing to reduce printing and postage waste. You can't get this from an email list! Simply provide us with your recipient list and delivery timeframe and we'll handle the rest or we can arrange to secure a targeted mailing list that has been thoroughly scrubbed to get you started.
Using our mailing services to pre-sort and generate intelligent mail bar codes that the USPS utilizes, we can save you time and money. We also provide "Every-door-direct" mail through the post office that is designed to deliver your offer in the least expensive means possible by delivering to every address within a zip code. No list purchase or list management is required and delivery is guaranteed.
By using a strong call to action and personalization like PURL's (personal web addresses) you might be surprised how "inexpensive" direct mail ends up being.
Mailing Services from James Printing offers:
Something Tangible that Can Be Held In Your Hand

Something That Stands Out From All the "Electronic Noise" People Are Bombarded With

Personalization to Improve Response Rates

Consulting on Ways to Facilitate Tracking Results

An Alternative Way to Reach Your Target Market Used in Concert With Other Forms of Communication
Contact Us today and let one of our expert representatives consult with you on ways to help you really stand out from the crowd.