BINDING
KEEPING IT ALL TOGETHER
Whatever your project is designed to do, the extensive bindery services at James Printing provide a variety of options to complete it with style. Our mechanical binding services include high-speed saddle stitching, side stitching, plastic coil and perfect binding.
Our binding operations will help you:
Finish Your Project Professionally

Increase Your Message of Quality

Enhance Your Brand's Image
SADDLE STITCHING
Our high-speed saddle stitcher enables us to stitch thick and thin booklets alike. This machine features a cover feeder that scores each cover in line as it is being dropped on top of the gathered forms. Next, each book is stitched and three-knife trimmed to complete the operation.
SIDE STITCHING
Side stitching is one of the strongest construction options and is frequently used for binding textbooks. It's also a common method of binding periodical issues made up of leaves or more than one section.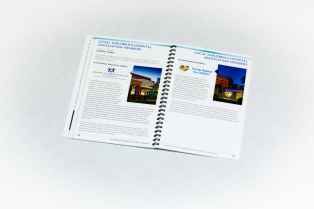 PLASTIC COIL
Plastic coil or "plastic spiral" is popular for calendars, children's books, manuals and other materials. Available in a variety of colors and sizes, plastic coil elements will spring back to their original shape even if stepped on and make it easy to change out pages or make modifications to pieces at a later time if needed.
PERFECT BINDING
Perfect binding is the "standard" adhesive binding method applied to the spine of a book block, which is then married to a cover. Decoration and design options for perfect bound books include foldouts, pocket covers and die cutting.
Contact Us with questions on how our binding services can help make your marketing all come together.