AWARDS AND TESTIMONIALS
AWARD WINNING EXECUTION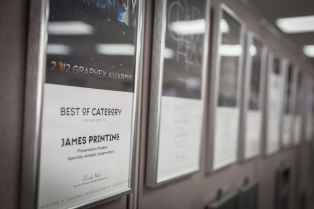 Although we're not one to boast or brag, James Printing Company is extremely proud of the things we've been able to accomplish in our 40-year history. Being known for our quality of work and level of customer service, in combination with maintaining long-standing relationships with hundreds of clients throughout the Kansas City area, is truly our greatest achievement.
We're also pleased to hear customers who visit our facility comment on it being ultra-clean and modern and standing out from other printing facilities they may have visited. We pride ourselves on finding ways to invest in our employees and the technology that keeps us on the forefront of printing techniques while upholding our dedication to craftsmanship.
Throughout the years, we've also won awards that serve as a testament to the quality of printing we continuously pride, such as the Best of Kansas City award presented by the Printing Industries of America (PIA). But ultimately, we value your business and consider your feedback and referrals as the biggest honor we could receive.
Award Number 1

This was a 2013 "Best In Category" for Invitations - Four or More Colors

This was for the Kansas City Chamber of Commerce Annual Dinner Invitation and involved specialty die cutting and folding

Award Number 2

This was a 2013 "Best In Category" for Broadsides & Flyers - Four or More Colors

Our client on this was the University of Missouri - Kansas City, Bloch Executive Hall for Entrepreneurship

Award Number 3

This was a 2013 "Best In Category" for Booklets & Brochures - 1,2 or 3 Colors

Our client on this was Trump Hotels, the title being "The Be Well Workout" booklet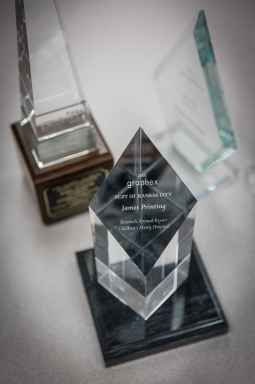 "I TRUST THEM" - IT'S WHAT OUR CUSTOMERS SAY
Don't just take our word for it. See what some of our fantastic clients have to say about James Printing.
"I trust them to do what they say they are going to do, every time, without question."
"They're really good with communication and when they can meet timeframes."
"I had another printer do small booklets and I can hold those up to the James Printing jobs and clearly see the difference."
"When timeframes are short, I go with those I trust, James Printing."
"I am frequently on the hot seat and I know I can trust them."
"They hit it out of the ballpark every time."
"Of the 10 to 12 vendors I use James is #1."
"They stand behind what they do."
"I don't bid jobs out because frankly, we prefer to have solid partnerships with vendors."
"He is really good about providing ideas, he has my back, he pays attention."
"An 'extreme' level of service."
"They give me the bad news in a timely manner."
"It's all about the sales rep."
Please Contact Us if you have any questions about the awards we've won or the testimonials we've earned. Or, if you have any other questions about the printing, marketing or the communication services we provide, we're happy to help in any way we can.