Pre-Press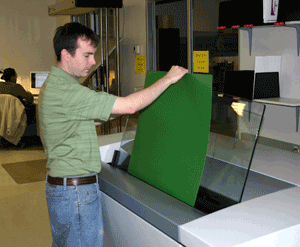 PDF Workflow System
James Printing's PDF workflow system combines speed, accuracy and quality. We have state-of-the-art software and hardware designed to meet rigorous color and special effects demands. Other workflow systems may rely on larger file sizes, which can cost precious production time. If a file needs to be corrected, our system allows us to quickly and accurately accomplish this and similar tasks.
With our custom-designed PDF workflow system, we're able to quickly generate proofs as compared to other systems. Our goal is to turn proofs within 24 hours.
Preflighting
Every job that enters our production facility is usually reviewed within one hour. Our preflighting operations are supported by software that enables us to examine files that arrive via FTP, e-mail or disk. Our preflighting process quickly allows us to determine if any elements are missing, or if there are any structural problems with any of the files. We carefully examine what we receive and compare the job to its original quoted specifications. We also check for correct resolution and physical dimensions. After inspecting each file, we will contact you immediately to make you aware of any problems. If the file is accurate, it moves right into production.
The James Printing preflight process is much more involved than just looking for missing fonts and graphic images.
Proofing Options
After our prepress technicians work on your file, you'll receive a color accurate proof. You'll also receive a mechanically accurate proof so you will know what the piece will look like after folding, die cutting, saddle stitching or whatever post press options you require. We use Epson 10000 and 10600 digital proofers supported by the Oris color management system. Both devices are carefully calibrated to our presses so what you see on the proof will match what you'll later see on press.
Proofreading: A James Printing Extra!
Our customers have discovered a unique James Printing benefit: We read what we print! Over the years, you'll appreciate having another set of eyes proofread your projects. No doubt, we'll catch something important for you sometime. Everyday, our skilled employees catch unintended spellings, grammar and the like, and suggest corrections, made only with your approval.
Do we catch everything? No, but we try.
Skilled Management
Our prepress department is led by a team member with more than 20 years experience. Our skilled prepress team specializes in finding solutions to complex challenges. If issues arise, we will be only too happy to offer options.
We know our customers need their jobs, not excuses.