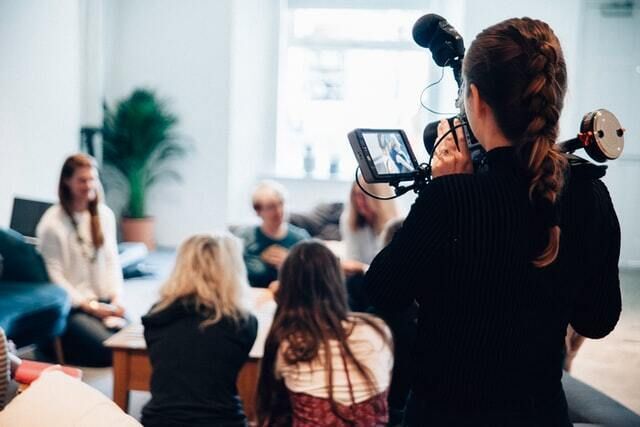 Lights…Camera….Action! Video is an opportunity for your business to tell a story in a compelling way. While we can't promise that it'll make you the next George Clooney, we can promise that if done correctly, it can be a great marketing tool for your business. Read on to learn more about how you can incorporate video into your marketing strategy. 
Keep it Short
Attention spans are at an all-time low. It's part of what made the popular social media app Tik Tok so successful. With the social app, users have a small amount of time to capture your attention before you scroll past. Videos are kind of like that! While it's okay to have a video longer than 15 seconds, you'll need to be captivating. As a rule of thumb, aim for around a minute at most for social media channels.
Include a Call to Action
What exactly is it that you want your audience to do after they watch your video? Start with what you hope to achieve and work backward from there! Consider adding a clickable link to your bio with instructions to visit the link after watching, or a QR code at the end of the video directing your viewer to a landing page that leads them to do the intended action. 
Determine the Audience
Like all great movies, you're only as good as the content is to your audience. They're the ones you're trying to impress, so think about what they would like to see. Maybe it's a deal they can't pass up. Maybe it's an exciting new feature that will benefit them. Maybe it's just a funny video to keep them interested and your brand top of mind! Determine what you're trying to achieve and base your content around your audience's likes and dislikes. 
Avoid "Talking Heads"
If you're going to spend the time putting together a video, you should also take the time to come up with a compelling concept! Talking heads refers to a person on camera simply doing that—talking. Watch the video back and ask yourself if you'd be compelled to watch the entire video or if it might be time to go back to the drawing board. 
Consider Optimization
Think of how often you're on your phone checking social media or websites. You may even be reading this on your phone right now! Optimize your videos in a way that renders well for both the platform where you'll post and the devices your audience may be using. For example, you would shoot a TikTok video differently than you would shoot a Facebook video. 
All you need to shoot a professional looking video these days is a smartphone and a great idea! In addition, if you're looking for more production value you can invest in a professional to help. Start with what you hope to achieve, come up with a plan geared toward your audience, and get to filming!