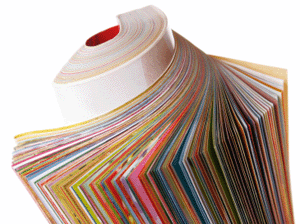 Choose the Right Paper to Help Your Project Flow Smoothly
Choosing the appropriate paper for your printing project can be likened to selecting the proper octane level for your car's fuel. Without the right fit, neither one is going to run smoothly.
Keep in mind that the end use of the project should determine the grade of paper you will select for your project. In addition to achieving the proper look and feel for a specific piece, postal regulations, production schedule and overall budget should also be factored into the paper selection process.
Contact James Printing early in the design stage so we can help you find the paper style that best fits your needs. Paper types vary by appearance and printability and sizing your project accurately will help to determine many factors involved in the printing process.
With the recent industry-wide paper cost increases, which includes almost every type of stock used for direct mail components, the need to choose the right paper is now even more important.
Here are some paper planning tips for your next project:
* Order early. Make your paper selection well in advance of the date on which you're scheduled to send files to the printer because paper availability fluctuates and the printer may need time to get the exact paper you require.
* Know your coated stock. Coated stock is paper that's been treated to smooth over the porous holes in natural paper fiber. Available in both dull and glossy finishes, coated stock is also denser and smoother than uncoated stock. Printing on this type of paper will sharpen your text and graphic layouts. C1S refers to stock which is coated only on one side while C2S means coated on both sides.
* Uncoated stock. Uncoated stock usually has a natural rough feel to the paper. Newspapers, cheaper catalogs and paperback books are prime examples of uncoated stock. Uncoated stock tends to soak up the ink. Uncoated stock is used in reading materials due to the decreased glare.
* Recycled stock. To be considered a "recycled" stock, paper must contain a certain percentage of post-consumer content. Uncoated offset paper used for book publishing and commercial printing must have at least 30% post-consumer content. Another recycled paper category includes supercalendared and machine-finished groundwood papers, which are typically used for magazine publishing. These papers require only 10% post-consumer product to be considered recycled, as do the coated stocks used in annual reports, posters and brochures.
The James Printing Advantage
Since 1971, James Printing has helped hundreds of companies achieve their goals by providing high quality printed materials to meet evolving communication needs. James Printing offers a wide range of graphic arts capabilities including expert job planning, instant preflighting, complementary proofreading, technically advanced litho and digital printing, complete bindery services, round-the-clock production and comfortable-as-silk hand holding at every step.
We're centrally located in Kansas City, Missouri, for easy access to just about anywhere. James Printing is more than a printer; we're a complete communications solution provider.